Canciones de 5 Seconds Of Summer y One Direction en el Where We Are Tour
:)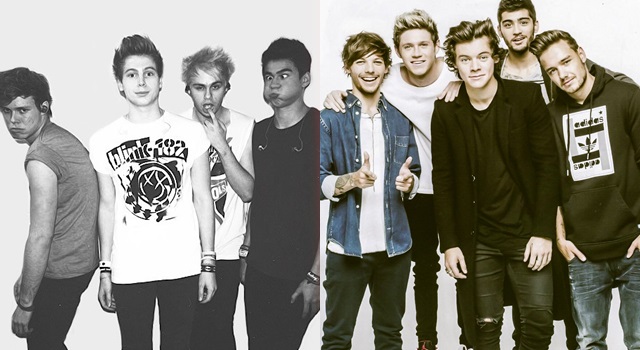 Queda menos de una semana para recibir a 5 Seconds Of Summer y a One Direction en nuestro país en la gira Where We Are Tour, pero, ¿qué canciones cantáran de 5 Seconds Of Summer y One Direction en el Where We Are Tour?
Como teloneros y para abrir un espectacular concierto, tendremos la oportunidad de ver a 5 Seconds Of Summer, que por segunda vez, debutarán en tierras españolas. Comenzaremos la gran noche con un setlist inmejorable de los australianos que estara formado por las canciones:
Los mejores Vines de One Direction en el Where We Are Tour

Where We Are Tour 2014, el gran anuncio de One Direction #onebigannouncement
Eighteen
Heartbreak girl
Don't stop
Disconnected
Amnesia
Beside you
Lost boy
What I like about you (Cover)
Good girls
She looks so perfect
Después de esta perfecta entrada al concierto, llegan los anfitriones de la noche, a los que llegamos con my buen sabor de boca. Estas son las canciones que cantará One Direction en el WWAT:
Midnight memories
Little black dress
Kiss you
Why dont we go there
Rock me
Don't forget where you belong
Live while we're young
C'mon c'mon
Right now
Through the dark
Happily
Little things
Moments
Strong
Better than words
Alive
One thing
Diana
What makes you beautiful
You and I
Story of my life
Little white lies
Best song ever
Una muy buena selección de canciones de ambas bandas que harán que las fans, tanto en Barcelona como en Madrid, disfruten de los conciertos. Tendremos a los chicos en Barcelona el 8 de julio y en Madrid, repetirán, el 10 y el 11 de julio.
Si todavía no tienes entradas, todavía puedes conseguirlas a un my buen precio en la web de Livenation. ¿Qué te parece el setlist de canciones de 5 Seconds Of Summer y One Direction en el Where We Are Tour?